Tue 29 Aug 2006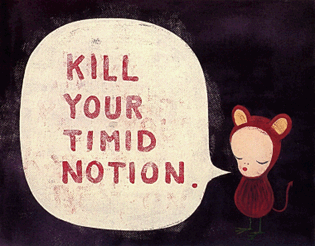 I saw this (the quote below, not the art above, the art above is a Yoshitomo Nara painting, done in 1995). . . I can't remember where– I think it was on a bumper sticker on the way to the grocery store:
At any moment you have to be ready to give up who you are today for who you could be tomorrow.
I thought that was pretty nice. But perhaps it could be edited to say:
At every moment we must give up our self-concept in order to actually be present.
Or even.:
Not constellating our identity around a self-concept is true freedom.
Leave a Reply